WELCOME TO
THE ROYAL STANDARD PUB
 •  Fine Wines
  

•  Craft Ales  •  Live Sports  •

Situated in the heart of the Tonsleys one-minute walk from Wandsworth Station, the Royal Standard is a cosy establishment offering style, comfort and outstanding customer service.
Book Your Party
Having recently received a well-deserved refurbishment, it has been brought back to life and to the heart of the local community and beyond.
Real Ales – Our award-winning knowledge and experience in the art of keeping real ales will ensure that you receive a perfect pint every time.
Craft Ales – London has experienced exciting growth in craft beer production over the last decade. There is an increasing popularity in trying new beers, which are not destined for mass-market, but rather for craft beer lovers and locals.
Fine Wines – We have an attractive array of rose, sparkling, white and red wines. You can enjoy a glass or a bottle with your friends. Our wine selection includes international wines.
Live Sports – Whatever it is you are looking to watch, The Royal Standard pub screens all premier international sports. When you enjoy a more niche sport, contact us – we do our best to cater to all your sport preference needs in our pub. To guarantee your seats close to the screen, you can just call us to book a table ahead of the big game. Please note that we are busy with all major fixtures. If you don't book, plan to arrive earlier to secure yourself the perfect spot close to one of the screens.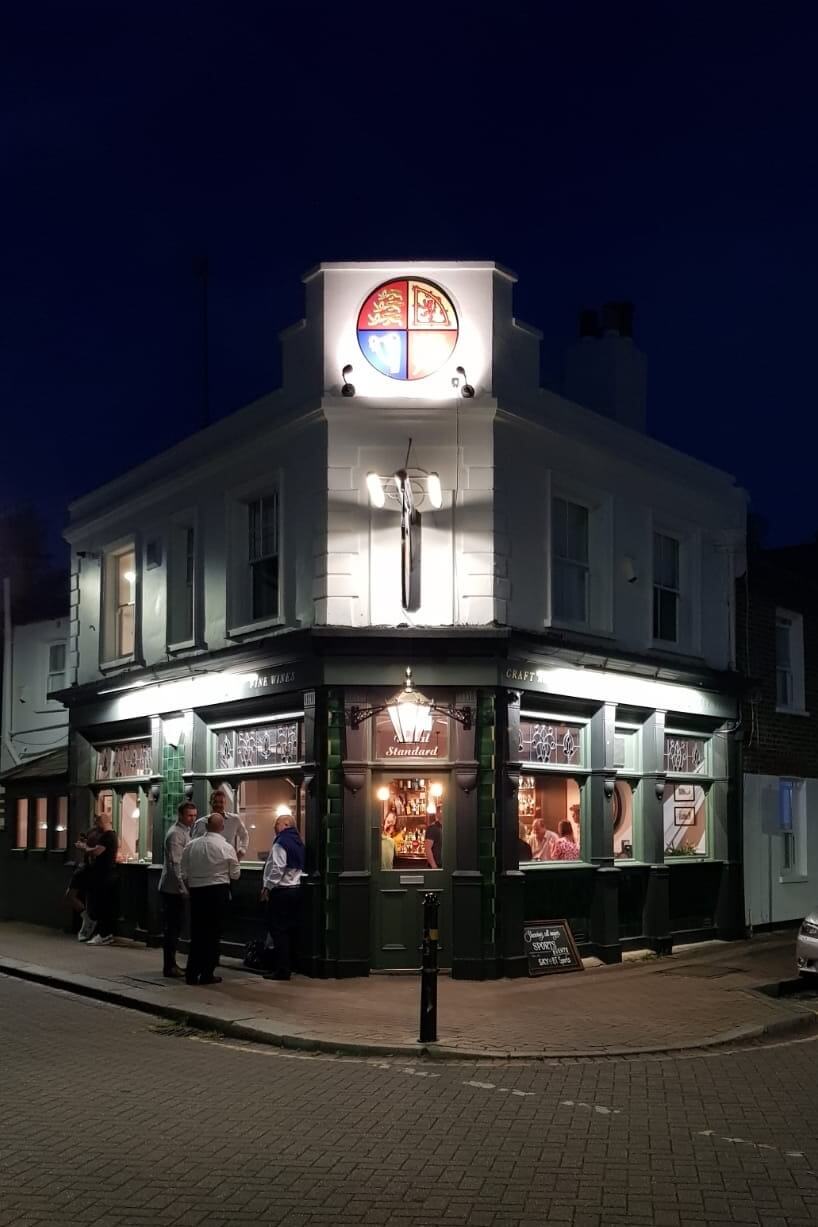 VISIT WANDSWORTH TOWN AND THE ROYAL STANDARD PUB
Wandsworth Town is a district in South West London. Reading about the history of Wandsworth, you learn that the district takes its name from the River Wandle. The River Wandle passes through several South London boroughs until it reaches the river Thames on the Tideway.
The Royal Standard Wandsworth is situated only minutes away from Wandsworth Common, where locals and visitors enjoy the beautiful amenities, including woods, lakes, and playgrounds. Important to mention also is Old York Road offering exciting events, local attractions, and a diverse mix of independent shops. The street festival being one of the annual events where you will see many interesting stalls, such as arts, crafts, and food. 
Famous people who lived in Wandsworth include, Daniel Defoe (author of Robinson Crusoe), Voltaire (philosopher), and Thomas Hardy (poet and novelist).

"I've been coming here for over twenty years, but now The Royal Standard is warm and cosy with the new decor adding to its attractiveness."

"The Standard is the best thing since sliced bread ;)"

"Great local pub in the heart of Wandsworth."

"The Standard has now become the brilliant local pub that I have been waiting for."
MON – FRI
4:00pm - 11:00pm

SAT
12:00am (noon) – 11:00pm
SUN
12:00am (noon) – 10:00pm
Let us know if you have any questions!
Your contact details and sensitive information is confidential and won't be shared with third parties (Data Protection Act / GDPR).